Traditionally, matcha green tea is not enjoyed in a latte. You drink it in hot water, no milk or sugar added. While that may sound boring to many – it's how people traditionally drink tea.
As much as the British love their tea, tea actually comes from China! TED-ED made a fantastic video here, describing how tea became popular around the world.
NUTRITION ARTIST: Where food, history and culture collide! I love learning about how history and culture influence food! Do you as well?
Matcha Green Tea Health Benefits
Matcha green tea has many health benefits. For one, it's high in l'theanine, an amino acid that increases alertness without anxiety (1, 2, 3). It provides a calming effect without the jitters of coffee. If you're looking for an energy boost without feeling shaky, try matcha!
Matcha also has powerful catechin antioxidants. (4, 5, 6). The most potent one, being EGCG has been shown to help with brain function, decreases inflammation and has benefits for your heart and skin (7, 8).
I made a post here on Instagram showing visually and scientifically, the benefits of matcha green tea: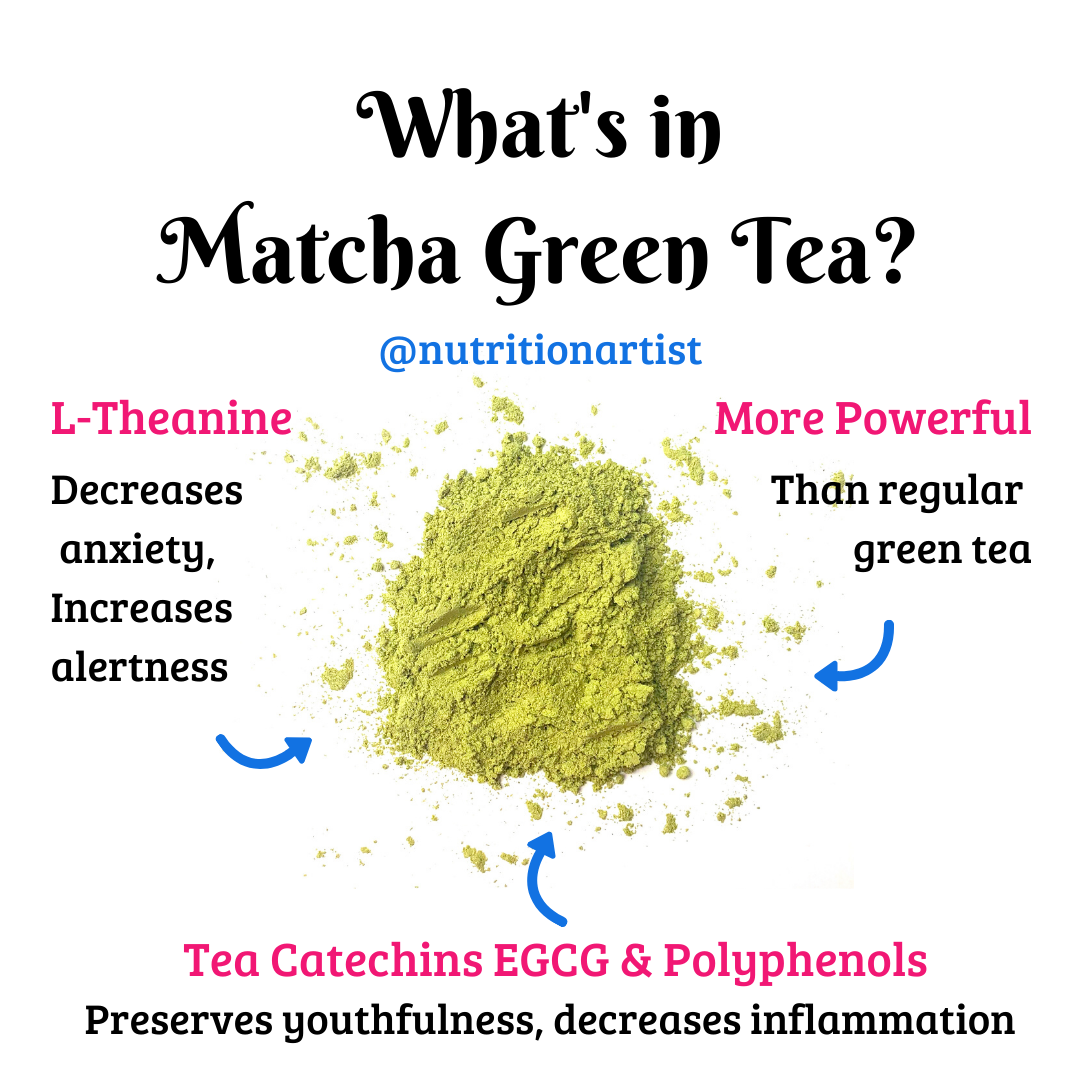 Do you like posts like this one above?
Follow me on Instagram @nutritionartist, where I regularly make infographic posts similar to this! 
Time for the recipe!
RECIPE: Vegan Oat Beverage Matcha Latte
Prep Time 5 mins | COOK TIME 5 MINS | Total Time  10 mins | SERVES 1
Ingredients
1-2 teaspoons matcha green tea powder (depending on how strong you like your tea)
1-2 Tablespoons warm water (depends on how much matcha you use)
1 cup oat beverage
1-2 teaspoons honey (depending on how sweet you like your tea)
French press (optional)
Instructions
In a small bowl, mix the matcha powder with water to form a paste. If you used more matcha powder you will need more water. Start with a small amount of water and add more. Mix until there is a smooth consistency. Set aside.
2. In a small saucepan, heat oat beverage over medium heat. Stir until heated through, about 3-4 minutes. Add in matcha and water mixture and stir.
3. Whisk in honey.
4. Pour into a mug.
Optional step: If you want foam, pour 1/3 of the latte into a French press. Plunge a few times until mixture is bubbly. Pour on top of mug.
Top with matcha powder and enjoy!
Did you make this recipe? Share on Instagram or Facebook and tag @nutritionartist using hashtag #nutritionartist
What did you think of the recipe? Comment below and let me know!