If there is any recipe that combines my heritage and nutrition training, it's this recipe, one that combines 1) Mung bean sprouts and king oyster mushrooms and 2) KALE. Lol!
I used kale because it's what I had on hand, but this recipe would work great with any other leafy green vegetable, such as bok choy, broccoli, spinach, swiss chard, napa cabbage… you name it!
I prefer kale cooked over raw. And did you know?
FUN FOOD FACT: Cooking vegetables actually releases more of the nutrients from the plant cell walls so they are better absorbed by the body.
I did a segment on Breakfast Television Toronto on this topic – you can watch here!
Mung Bean Sprouts Nutrition
A quick note on mung bean sprouts' nutrition. These little sprouts are highly nutritious; high in vitamins C and K, minerals copper and manganese, and fibre. A bonus is that they are also inexpensive. You can see from my Instagram @nutritionartist, I break down all the nutrition info there.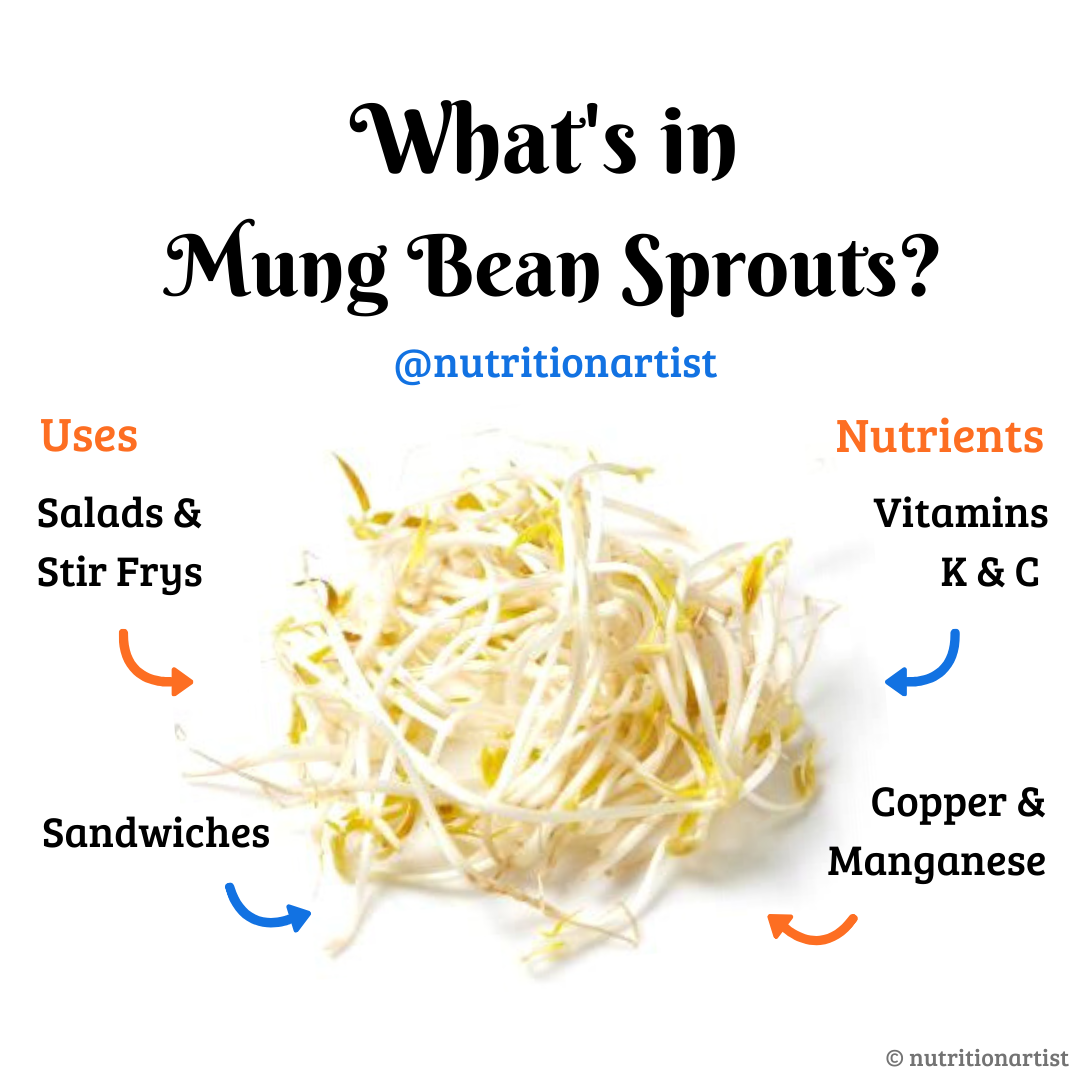 Do you like these artistic nutrition images? Follow me on Instagram @nutritionartist for more!
3 Tips About Mung Bean Sprouts
After purchasing them, use them within 2 days max.
Remove the little brown tails. You can eat them, but I find they taste better without.
Due to their increased risk for growing bacteria, raw mung bean sprouts are not recommended for infants, elderly, any immunocompromised or pregnant women. When in doubt, it is best to cook them. One of the easiest and quickest ways to make sure they are food safe is to boil them for one minute in hot water or broth.
Vegan Recipe: Mung Bean Sprouts, Kale and King Oyster Mushroom Stir Fry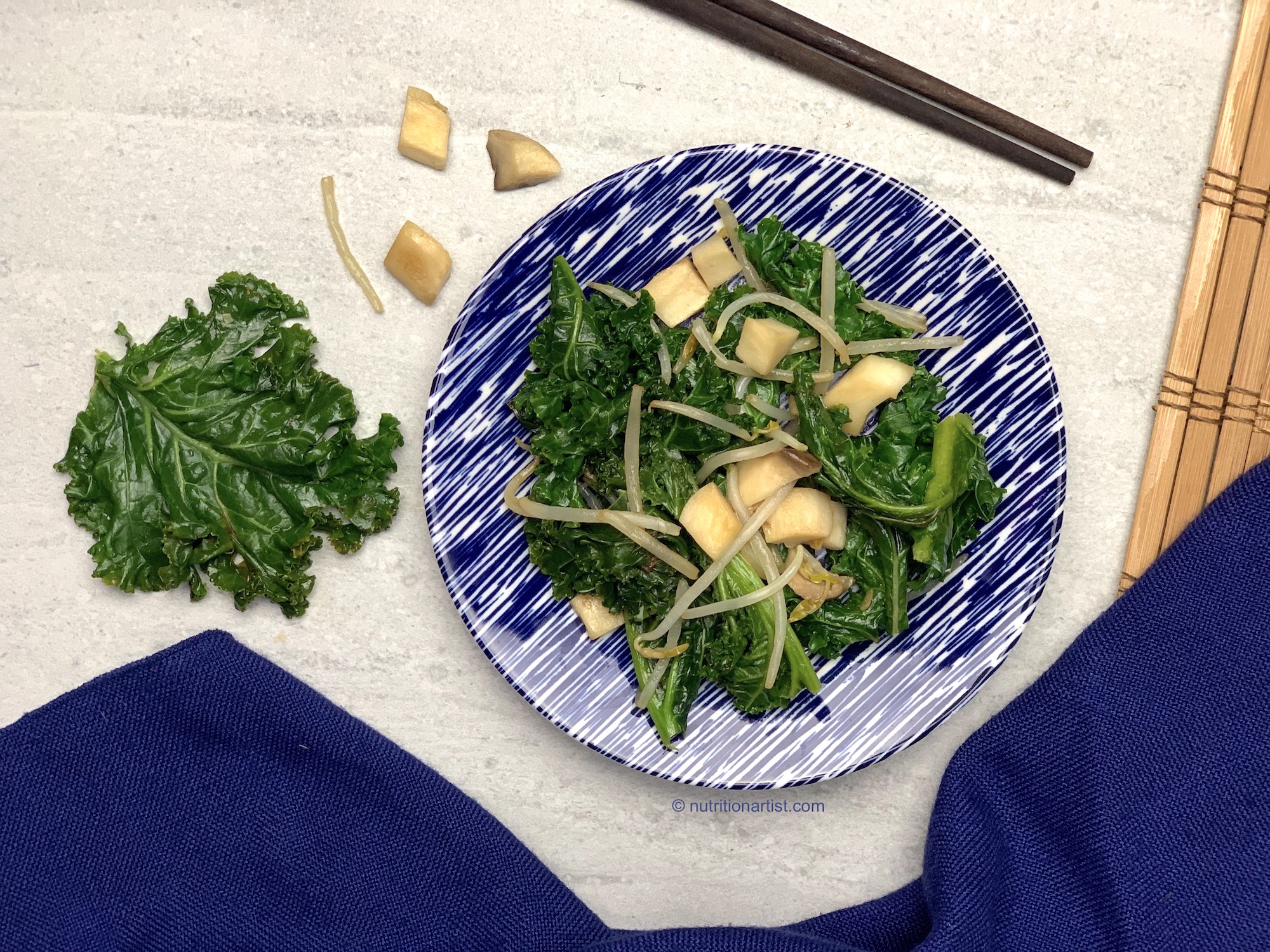 Prep Time 25 mins | COOK TIME 10 mins | TOTAL TIME 35 MINS| Serves 4
Ingredients
Sauce Ingredients
1 Tbsp red vinegar
2 Tbsp soy sauce (regular or low sodium)
1 Tbsp sesame seed oil
2 Tbsp water
½ tsp white sugar
Stir Fry Ingredients
1 lb (16 oz), brown ends removed mung bean sprouts
200 g (7 oz) king oyster mushrooms, diced
1 bunch kale, stems removed
1 Tbsp canola oil + 2 tsp, divided
3 cloves garlic, minced
Instructions
In a small bowl, combine red vinegar, soy sauce, sesame oil, water and white sugar. Stir together and set aside.
Pick over mung bean sprouts and toss any that appear mushy. Rinse and drain sprouts 2x minimum.
Heat a pan to medium high heat. Add canola oil and swirl to coat.
Add mung bean sprouts. Stir fry for 1 minute. Remove from heat and put on a large plate.
Add mushrooms to pan.* Heat for 2 minutes. Remove from heat and put on plate with mung bean sprouts.
Add kale to pan. Stir fry for 1 minute. Cover for another minute. Remove from heat and put on a plate with mung bean sprouts.
Pour reserved 2 tsp canola oil into pan. Swirl to coat. Add garlic. Stir for 30 secs to one minute.
All mung bean sprouts, mushrooms and kale back into pan. Pour sauce into pan. Stir fry for 1 minute.
Remove from heat. Plate and serve.
*TIP: Mushrooms are comprised of mostly water, so resist the urge to move them around too much in the pan. You want some nice browning, so let them sit and let the water evaporate.
​
What did you think of the recipe? Comment below and let me know!