The following post is sponsored by Conestoga Farms Eggs, a local wholesome farm from Southwestern Ontario looking to bring nutritious, premium eggs to your family. Learn more about them by following them on Instagram and Facebook.  As always, all opinions are my own!
Fried rice has always been one of my favourite foods. I remember eating it at Chinese restaurants with my family. My mom would make it at home for us with day old rice, which is what fried rice works best with.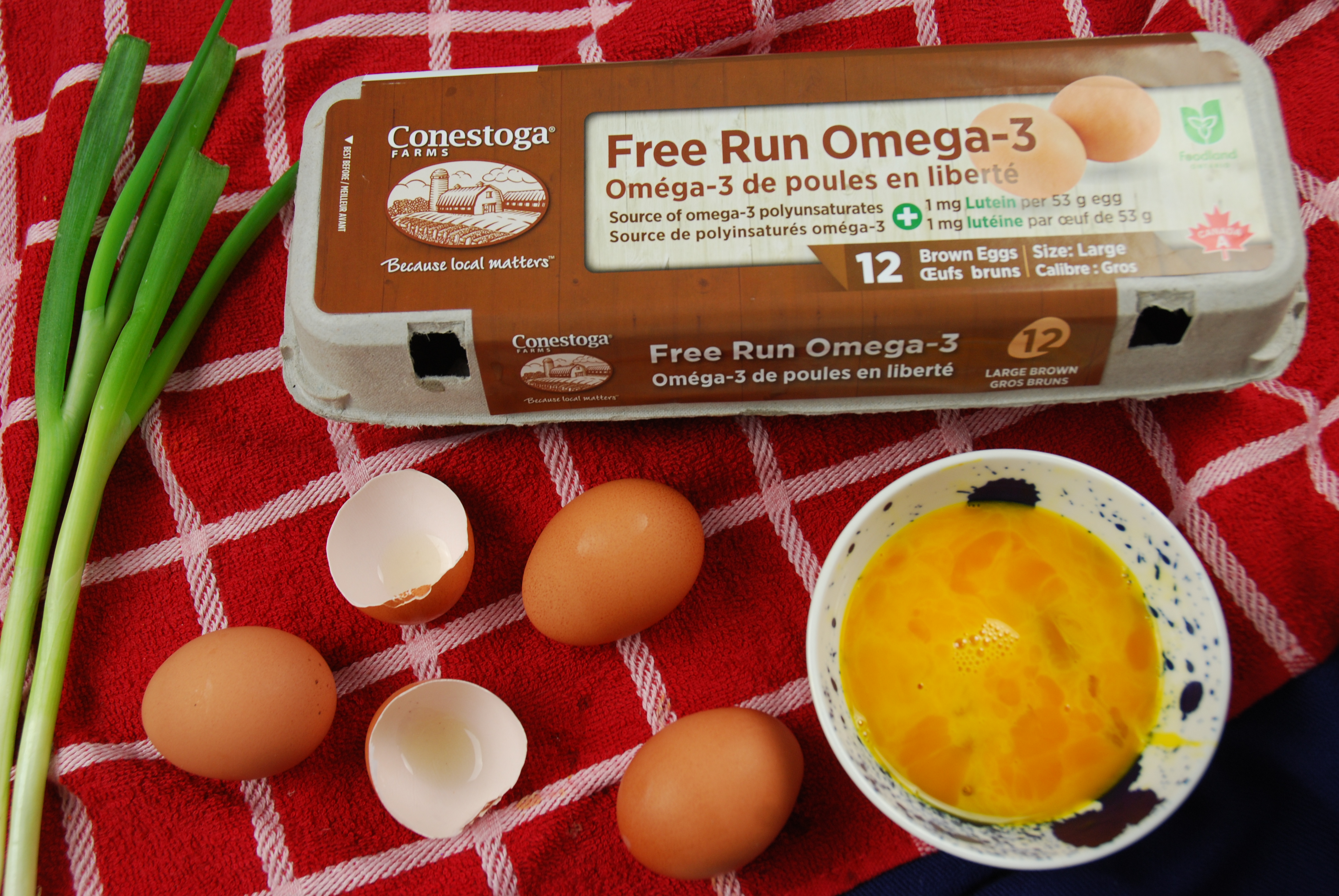 It's fast and flavourful, perfect for a weeknight meal. This one is vegetarian, but of course you can add different proteins such as chicken or pork. 
For this recipe, I am using locally produced free run eggs, because local matters! These eggs are also enriched with healthy omega 3 fats and lutein. Lutein is known for its eye health benefits.
For fried rice, the restaurant stuff is always super tasty, however, like most home cooking – the one you make yourself is healthier. I love being able to add more vegetables and adjust the sodium content. 
Try this homemade version I adapted from Woks of Life – one of my favourite Chinese food blogs!
Prep Time 20 mins |COOK TIME
10 MINS | 

Total Time  30 mins | serves 6
Ingredients
3 cups cooked, day old brown rice
4 large Conestoga eggs (divided) 
¼ tsp paprika
¼ tsp turmeric 
2 Tbsp water
3 tablespoon oil (divided) 
1 medium onion, diced
1 red bell pepper, diced
1 medium carrot, diced
1 cup frozen peas, thawed 
2 Tbsps rice vinegar
1 ¼ tsp salt 
¼ tsp sugar 
1/8 teaspoon monosodium glutamate (MSG) powder (optional)
14 tsp black pepper 
2 green onions, chopped
Hot sauce (optional)
Instructions
Using refrigerated day old brown rice, break the rice clumps into individual grains. 

Beat 2 eggs into a small bowl. Beat in the paprika, turmeric and water. Beat the other 2 eggs in a small bowl. Set bowls aside. 

Heat a wok or large pan over medium high heat, add 2 tablespoons oil. Add the 2 beaten eggs without the spices. Scramble. Remove from heat and set aside. 

Heat wok/large pan over high heat, add last tablespoon oil. Add onions, bell pepper and carrot. Stir fry for 2-3 mins. Add rice and stir fry for 2 minutes. Using your spatula, break up clumps and use a scooping motion to heat through all the rice evenly. 

Pour the spice and uncooked egg mixture over the rice. Stir fry for approximately 1 minute. Coat all of the rice with the egg. 

Add peas. Stir fry for another minute. Add rice vinegar, salt, sugar, MSG powder and black pepper and mix. You want to see steam coming off the rice, indicating it is fully heated through. 

If you find there are still too many clumps of rice or it looks dry, sprinkle in water or stock. Mix in cooked scrambled eggs and green onion and serve!