This is the follow up recipe to my article here on how to stay full on a vegan diet. One of my fav recipes, I often make this for us when we're going for a meatless meal.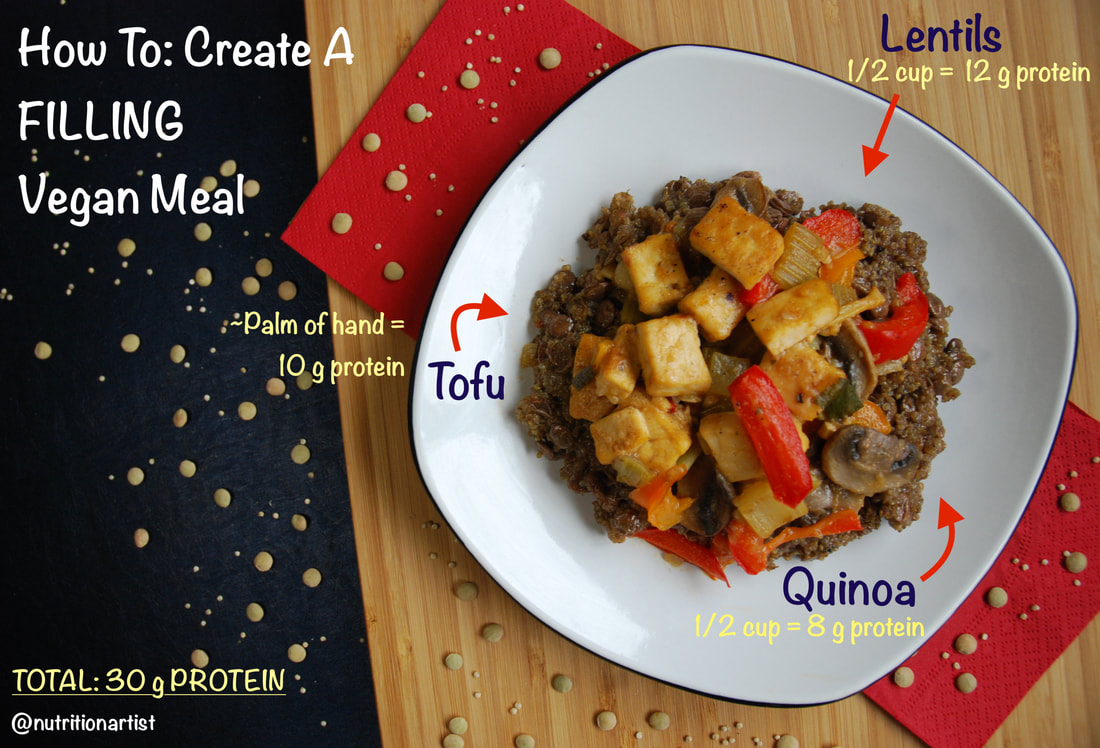 Prep Time
20 mins |
Total Time
 50 mins |
yield
 Serves 4 (about 1 & ½ cups each)
Ingredients
1 (14-ounce) package water-packed extra-firm tofu, drained
1 tablespoon canola oil, divided
1/4 teaspoon black pepper
3 1/2 teaspoons cornstarch, divided
3 large green onions, diced. Divide green parts with white parts
3 garlic cloves, sliced
1 tablespoon julienne-cut ginger
2 medium red bell peppers, seeds removed and julienne-cut
4 stalks celery, diced
1 package (227 g) mushrooms, sliced
540 ml / 19 oz canned lentils, drained and rinsed (approx. 2 cups cooked if you are cooking them from dry)
2 tablespoons red rice vinegar
1/4 cup vegetable broth
2 tablespoons lower-sodium soy sauce
1 tablespoon hoisin sauce
1 teaspoon dark sesame oil
1 teaspoon honey or brown sugar (vegan)
Instructions
Step 1
Cut tofu lengthwise and dice into 1.5 cm cubes. Place tofu on several layers of paper towels and cover with more paper towels. Let stand for 30 minutes and press down occasionally. The goal is to remove the excess moisture in the tofu so it browns nicely. 
Step 2
Heat a large wok or skillet over high heat. Add 1 and ½ teaspoons of canola oil and swirl to coat. In a medium bowl, combine tofu, black pepper, 2 teaspoons of cornstarch and toss to coat. Add tofu to pan and stir-fry to 8 minutes. Turn tofu to brown on all sides. Using a slotted spoon, remove tofu from pan and set aside. Add white parts of onions; stir fry for 1 minute, then add garlic and ginger to pan and stir fry for another minute. Remove from pan and add to tofu.
Step 3*
Add remaining 1 ½ teaspoons canola oil to pan and swirl to coat. Add bell peppers, stir fry 1 minutes. Add celery, stir fry 2 minutes. Add mushrooms, stir fry 2 minutes. Add lentils, cook 30 seconds. Add rice vinegar, cook 30 seconds, stirring constantly. Stir in tofu mixture.
Step 4
In a small bowl, combine remaining 1 ½ teaspoons cornstarch, broth and remaining ingredients and whisk. Add broth mixture to pan, cook until mixture slightly thickens, about 1 minute.
Step 5
Serve on top of quinoa.
*For Step 3: You can use carrots, snow peas, broccoli, bok choy or other vegetables. Just substitute them for the other ones above and adjust the cooking time for each vegetable.
If you try this recipe, comment below and let me know, how did it taste? Did it make you feel satiated (full longer)?