I'm all for a more plant-based diet, and often encourage people to eat more plants! To be blunt, the only way to become healthier is to incorporate more vegetables and fruits in your diet. As a registered dietitian and nutritionist, I am happy to see more people adopting this.
However, the biggest complaint I often hear from (mostly new) vegans, vegetarians and those trying to eat more flexitarian (ie. more vegetarian/vegan meals throughout the week) is… I eat so much,
WHY AM I STILL HUNGRY?
​While there are many reasons why you may become hangry (hungry and angry) while trying to eat more plant-based, much of this can be attributed to not eating sufficient energy (ie. calories) and nutrients on a vegan or vegetarian diet.
You need to think of it this way: Often when we choose to make drastic changes to our diets, there is an increased risk of nutrient deficiencies because we are either consuming less of a food group or not consuming it at all.
Again, keep in mind that how much you should consume is attributed to your gender, age, size, activity level or with any medical conditions you may have.
Most people believe that you can only meet all your protein, iron and B12 needs on an omnivorous diet, but this is not true – even in active people and athletes. You can read more about that here.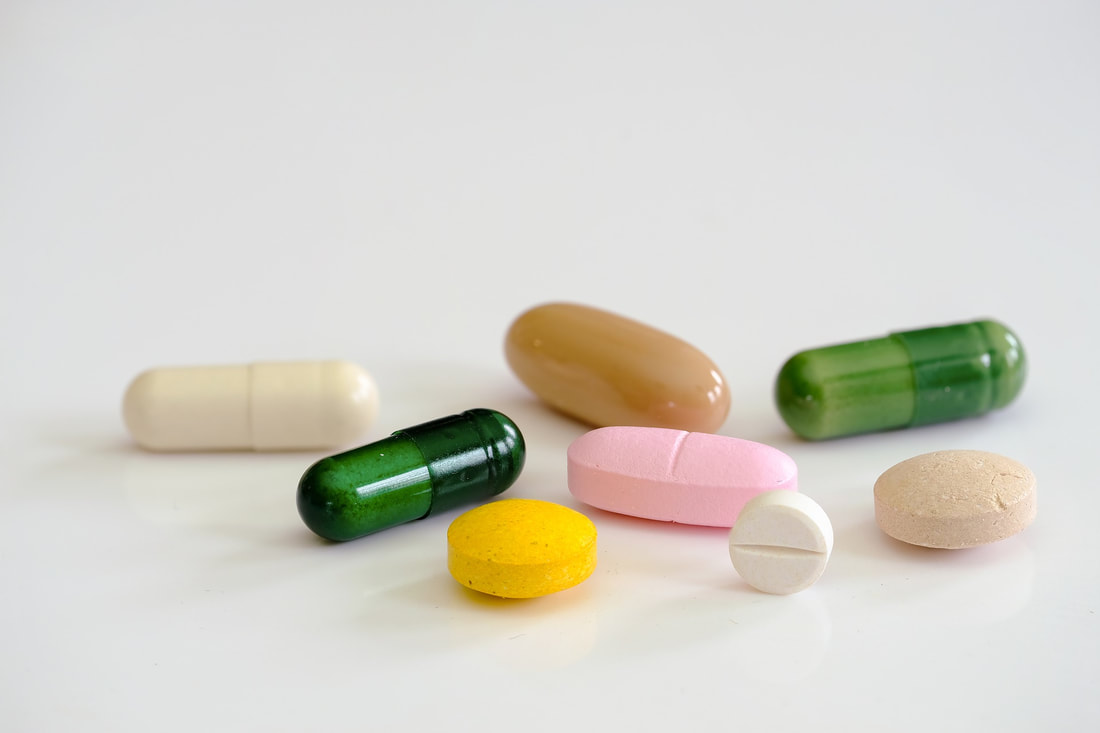 Nutrients At Risk in Vegan or Vegetarian Diets
Often it is recommended that vegans and vegetarians take a B12 and an iron supplement. Calcium, vitamin D, zinc and omega 3 fatty acids are more important in a vegan diet. More info on that here, here and here. For vegetarian diets, these nutrients can be difficult to intake depending on the type of vegetarian you are, ie. lacto-ovo vegetarians eat dairy and eggs, and pescatarians eat fish. Be sure to speak to your registered dietitian or doctor to ensure that you are meeting your nutrient needs.
Two of my favourite ways to ensure you are eating enough so you don't get hungry as a vegan or vegetarian is to:
​
 1) Aim to eat a variety of plant-based foods to ensure you are getting enough essential amino acids throughout the day. 
2) Choose plant-based foods that are higher in protein.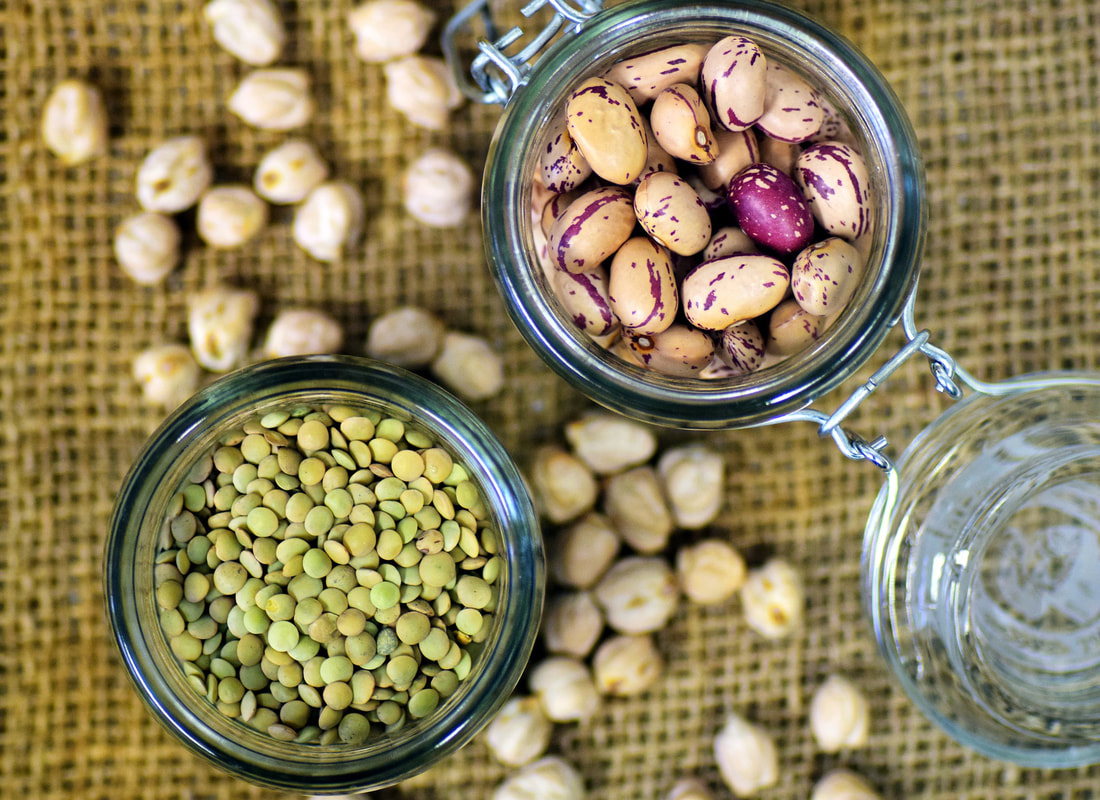 1) Eat a Variety of Plant-Based Foods Throughout the Day 
I'm going to start with a bit of myth-busting:
It used to believed that a plant-based protein had to be combined with another plant-based protein to make a complete protein source. This is what they would call combining complimentary proteins.  A single plant protein (ie. beans) was considered incomplete, meaning it lacked all essential amino acids (ie. beans are often low in methionine) or was low in one of the essential amino acids. Therefore, plant sources were believed to have to be combined with another protein to become a "complete" source. This was why it was recommended that vegetarians eat their lentils with rice!
All the different amino acids!​
Amino acids are what make up protein. They are the building blocks of life and we need protein for many of our bodies' functions. Our bodies make nine essential amino acids: histidine, isoleucine, leucine, lysine, methionine, phenylalanine, threonine, tryptophan, and valine.
Animal sources; such as chicken, beef, pork, fish and eggs deliver all nine essential amino acids. Soy, quinoa, and pea protein three plant-based proteins that deliver all nine essential amino acids.
 
Most plant-based foods have either less than all nine amino acids or are lacking in one or more, however most of them contain at least some of every essential amino acid. Legumes (ie. lentils, kidney beans) tend to be lower in methionine, and most other plant foods tend to be lower in lysine. Within our bodies, we have consistent amounts of proteins and these essential amino acids. Therefore, the verdict is:
 
As long as you keep eating a variety of plant proteins throughout the day, you can get all the amino acids you need on a vegan diet. More information here. Here is a sample one-day vegan meal plan to better explain what I mean:​You can start your day off with whole grain toast, nut butter and berries, followed by a tofu stir-fry on brown rice for lunch, hummus, whole wheat pita and raw vegetables for snack, and quinoa and bean salad for dinner.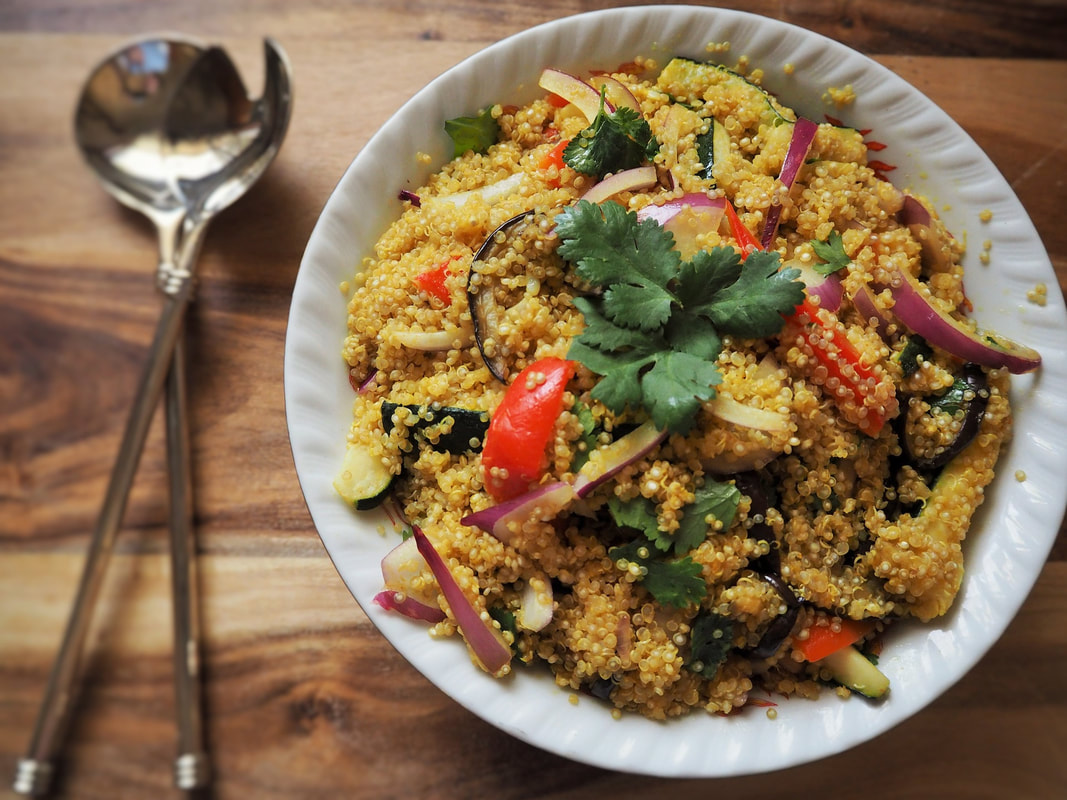 A quinoa and bean salad would be a great dinner to finish off the day.
​Do you notice how in the above (and very simplified one day plan) there are different types of plant proteins (whole grain bread, nut butter, tofu, hummus, pita, quinoa and beans) at each meal or snack? This is what experts mean by saying, "consume a variety of plant proteins throughout the day."
In past practice, I found that when I advised clients to eat multiple, higher plant protein sources, they often felt more satiated and less hungry. The same goes for myself and my family when I prepare us vegan meal. This brings me to #2:
2) Choose plant-based foods that are higher in protein.
​If you are someone who is not used to eating vegan foods, you might find after eating you still feel hungry. This is because…
Not All Proteins Are Created Equal
Another common misunderstanding of plant protein vs animal protein is the ratio of protein quantity is not 1:1. For example, a 3-ounce serving of steak will have about 22g of protein. A half cup serving of chickpeas will have about 7g. If you are used to eating the steak, a half cup of chickpeas will probably not make you feel satiated. However, eating one and a half cups of chickpeas is a lot of chickpeas to reach that 22gs you'd get from steak. Most people I know will experience bloating and gas from eating that many chickpeas because consuming all that fibre at once would be hard on their digestive systems.
This is why I advise choosing foods that are higher in protein to feel of fullness. A higher plant protein option would be soy products, such as tofu, tempeh or soybeans.
I have been eating tofu and soy products since I was a kid due to my East Asian upbringing. I have definitely seen it change over the years to suit a variety of different taste buds and texture preferences. Because soy products have all nine essential amino acids, this is a common plant protein source I recommend.
Also, when I recommended to people to eat more than one kind of plant protein source, they are less likely to complain about feeling hungry a half an hour later.
Here is an example of a meal that would feel more satisfying:
½ cup of chickpeas (7g protein), 1 cup of quinoa (8g protein) with a higher protein source such as 3 ounces firm tofu (8g protein). These three high protein sources have 23g of protein total in a meal. Not to mention, it also has about 12g of fibre, which would also help with fullness and digestion!
Below is my filling vegan stir-fry recipe (backed up by science, lol) that is delicious, satisfying and healthy: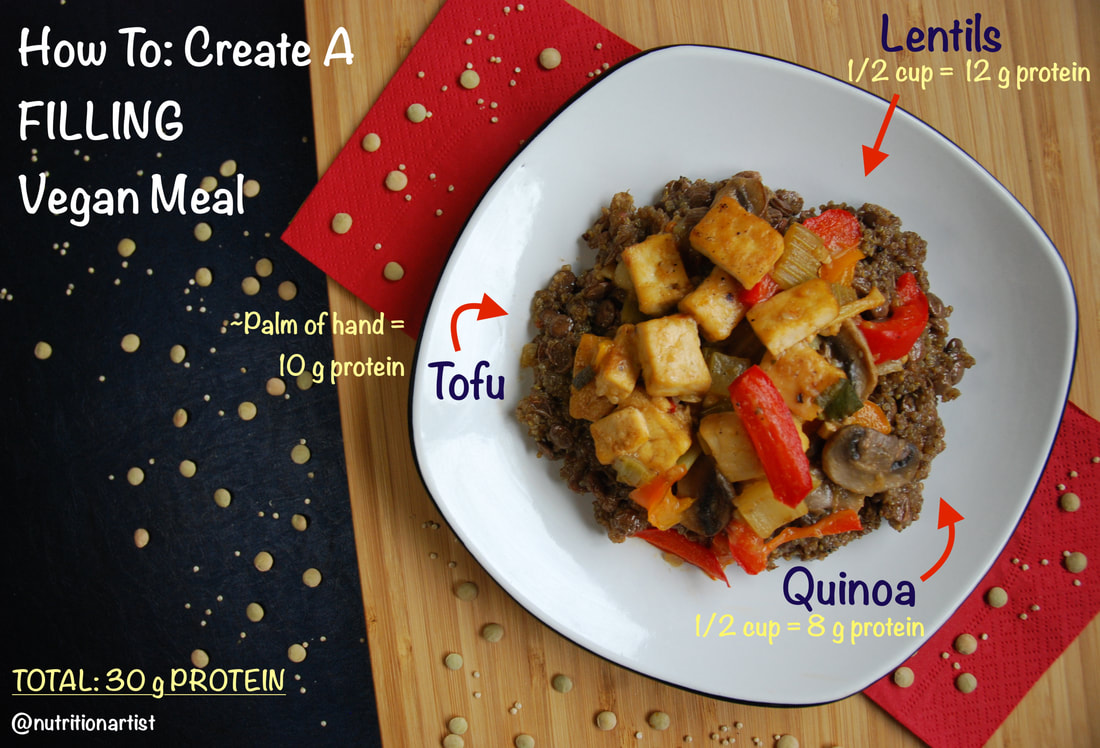 Prep Time
20 mins |
Total Time
 50 mins |
yield
 Serves 4 (about 1 & ½ cups each)
Ingredients
1 (14-ounce) package water-packed extra-firm tofu, drained
1 tablespoon canola oil, divided
1/4 teaspoon black pepper
3 1/2 teaspoons cornstarch, divided
3 large green onions, diced. Divide green parts with white parts
3 garlic cloves, sliced
1 tablespoon julienne-cut ginger
2 medium red bell peppers, seeds removed and julienne-cut
4 stalks celery, diced
1 package (227 g) mushrooms, sliced
540 ml / 19 oz canned lentils, drained and rinsed (approx. 2 cups cooked if you are cooking them from dry)
2 tablespoons red rice vinegar
1/4 cup vegetable broth
2 tablespoons lower-sodium soy sauce
1 tablespoon hoisin sauce
1 teaspoon dark sesame oil
1 teaspoon honey or brown sugar (vegan)
Instructions
Step 1
Cut tofu lengthwise and dice into 1.5 cm cubes. Place tofu on several layers of paper towels and cover with more paper towels. Let stand for 30 minutes and press down occasionally. The goal is to remove the excess moisture in the tofu so it browns nicely. 
Step 2
Heat a large wok or skillet over high heat. Add 1 and ½ teaspoons of canola oil and swirl to coat. In a medium bowl, combine tofu, black pepper, 2 teaspoons of cornstarch and toss to coat. Add tofu to pan and stir-fry to 8 minutes. Turn tofu to brown on all sides. Using a slotted spoon, remove tofu from pan and set aside. Add white parts of onions; stir fry for 1 minute, then add garlic and ginger to pan and stir fry for another minute. Remove from pan and add to tofu.
Step 3*
Add remaining 1 ½ teaspoons canola oil to pan and swirl to coat. Add bell peppers, stir fry 1 minutes. Add celery, stir fry 2 minutes. Add mushrooms, stir fry 2 minutes. Add lentils, cook 30 seconds. Add rice vinegar, cook 30 seconds, stirring constantly. Stir in tofu mixture.
Step 4
In a small bowl, combine remaining 1 ½ teaspoons cornstarch, broth and remaining ingredients and whisk. Add broth mixture to pan, cook until mixture slightly thickens, about 1 minute.
Step 5
Serve on top of quinoa.
*For Step 3: You can use carrots, snow peas, broccoli, bok choy or other vegetables. Just substitute them for the other ones above and adjust the cooking time for each vegetable.
If you try this recipe, comment below and let me know, how did it taste? Did it make you feel satiated (full longer)?