If you feel like you failed at your New Year Resolutions, now is a great time to start again. Whether it's:
Eating healthier
Exercising more
Managing your finances
Managing stress
… whatever else your heart desires!
You have the power to start over, because the Year of the Dog is here to support you!
2018 is the Year of the Brown Mountain Dog. We're going to have a roller coaster year, similar to a mountain.
But for each person, based on your Chinese zodiac animal, this year will bring different things.
The Chinese animal zodiac is a repeating cycle of 12 years, each year represented by an animal.
Traditionally these zodiac animals were used to date the years.
What does the 2018 Year of the Mountain Dog have in store for you? Find out HERE! 
​This blog post would not be complete without a discussion of some of the food and symbols of Lunar New Year. So here we go:
​
RED POCKETS
Chinese people love the colour red: symbol of energy, happiness and good luck.
The money inside is meant to bring happiness and blessings to the receiver. Also brings happiness to those giving.
They are usually given to children and adults who are unmarried.
MONEY TREE
The money tree is almost like a symbol of growing prosperity. You take care of it so it grows.
​During this time of year they often decorated with red envelopes, or charms for luck and to ward away bad spirits.
Now let's talk about food, because it has a HUGE significance in Chinese culture.
Traditional Chinese Foods
Longevity Noodles
Long noodles signify a long life. Longer than normal noodles and uncut, either fried and served on a plate, or boiled and served in a bowl with their broth.
Dumplings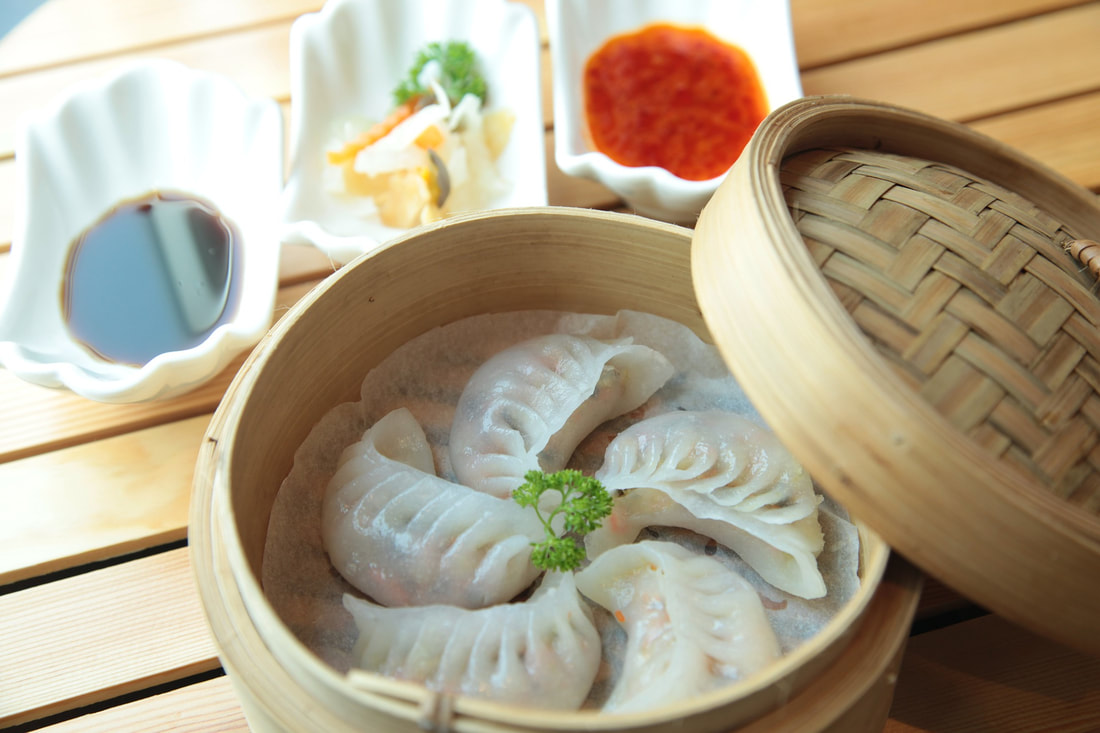 Dumplings are a symbol of wealth. They look like gold pieces. Often they are made with rice flour, minced meat and vegetables.
DESSERT – Dessert is my favourite thing – always!
Chinese New Year Cake
"Nián gāo" – signifies moving up – so either better prosperity or better wealth in a business. There are many different kinds. I made a very easy version above.
Click for Chinese New Year Cake Recipe
Tang Yuan
The literal translation of these is "soup balls" and these are one of the most delicious things ever. They are in rice flour paper with a sweet sesame filling inside. Also sometimes known as "glutinous" rice balls, they actually do not contain any gluten at all.
Walnuts and Sesame Cookies
Walnuts, sesame seed cookies are often enjoyed at this time of year. Often placed together in a tray that holds 6 or 8 different kinds, or are given away as gifts. They symbolize family togetherness.​
RECIPE: Chinese Fried Walnuts
If you're in the mood for deep frying (lol) or want some tasty and delicious walnuts, click the photo for this recipe – these are SO YUMMY!
Citrus Fruits
Tangerines, kumquats and oranges are lucky Chinese New Year symbols. … The citrus fruit has a deep symbolic meaning in Chinese context and tradition as it sounds similar to the word "luck" (tangerine) and "wealth" (orange). They also are a gold/orange colour, similar colour to gold, which represents prosperity.
Watch my Interview on Lunar New Year!
I'm wishing you all a fantastic Year of the Dog! What is your Chinese zodiac?